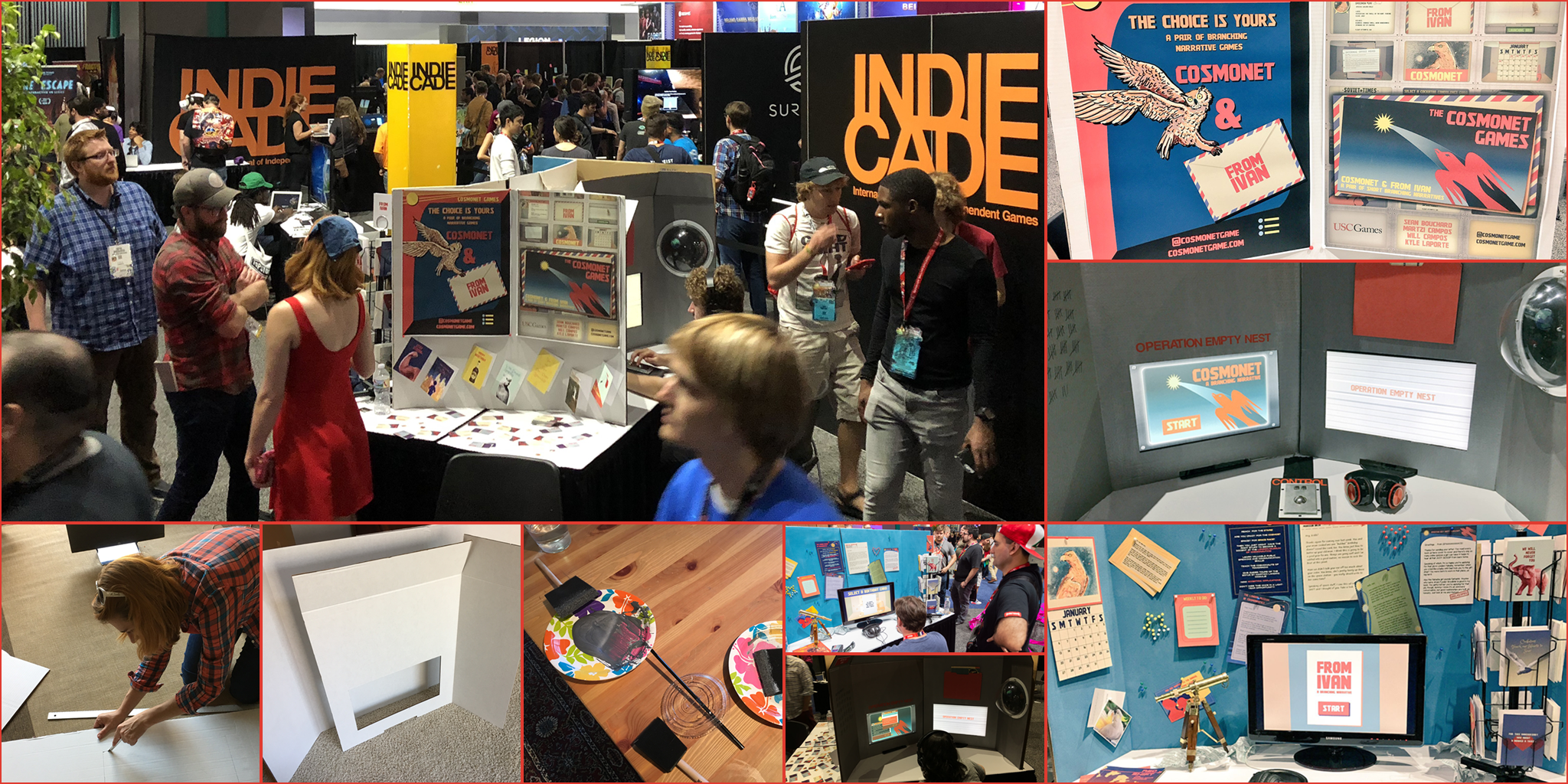 Hello, comrades! It's been a busy couple weeks for me and Martzi, so I wanted to give you some updates about E3, share with you some new articles that have been written about the Cosmonet games, and tease the next project that we'll be working on.
First of all, Cosmonet and From Ivan were both shown as part of the IndieCade Showcase at the Electronic Entertainment Expo, which was a tremendous honor and a ton of fun. For the event, we constructed a small installation to present the games back-to-back in settings that reflected their respective environments.

For From Ivan, we recreated Ivan's cubicle, more or less as you see it in the game. The cubicle is a pair of cardboard display trifolds that we draped with canvas and painted blue to help warmer tones pop. Then we printed out versions of letters that he can receive and pinned them to the backboard. Of course we also purchased a replica of the souvenir telescope that Ivan got from the London Museum of Cosmonautics when he was younger. And, finally, we printed out a set of 24 custom greeting cards, recreating some of our favorite options from the game.
For Cosmonet, we imagined Lena's workstation on the space shuttle, complete with test subject dossiers, a porthole window looking out into space, and a controller built around a stainless steel industrial trackball. We also created a custom build of the game for this installation, which employs two monitors. Most of the game takes place on the left-hand monitor, while the hatch on the right-hand monitor opens to reveal the micro-gravity tube whenever an experiment takes place. We'll be publishing the dual monitor version of the game this week, in case anyone wants to see it in action. You'll be able to find it at Cosmonet's itch.io page.

If you're into this sort of thing, I also did a rundown of some of my favorite themed installations constructed by big publishers to exhibit their games. It includes lots of pictures and lots of enthusiasm about physical space design. It's all collected into a Twitter moment that you can find here.
A couple press outlets who saw us at E3 have written up stories about the Cosmonet games, and I have to say that I'm both charmed and flattered by the amount of detail and consideration that was put into them. It's really encouraging for a creator to have their work seen and appreciated, so I want to offer an enormous thank you to Khee Hoon Chan at Unwinnable and Andrea Ayres at The Beat for taking the time to write about us. I encourage you to read and share these articles, which you will find here:
And finally, I just wanted to let you all know that, with E3 behind us, Martzi and I are about to start working on our summer project, which we are both very excited about. This new game is not going to tie directly into the Cosmonet universe, but it is going to play with some of the same themes: character-driven stories about relatable situations, with weird mechanics that present interactive narrative in exciting, experimental new ways. We're going to be kicking off production in a couple weeks, and I'll be posting updates over the summer letting you know how it goes. We don't have a title or a release date yet, but look for it in the fall!